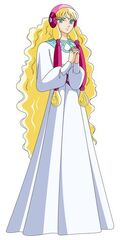 Introduction
Hi , my name is Shawana Carpenter and I am a very much of a fan of  Pretty Cure ! I am 25 years old and I love my sister and brother very much , they're into anime as well . I also love my   new friend Milky Flight who I met here on this wiki last year and I was so glad that I finally got to meet somebody who is just like me -a person who just wants to make new friends that are positive & supportive .
My nickname (respectfully) is officially Cure Eternity - meaning that I would like to live forever without aging -I am serious, not joking . My only friends that I have are my dolls ,My siblings, grandfather & Milky Flight -who I met on this wiki last year . This will is actually my home & really love opening up to everybody here so whenever there's something on my mind that I really can't say out loud or have a bad day, I will always come here and talk to anyone and share my thoughts . I really don't mess around with Instagram, Facebook & Twitter because I am really not into social media . 
I am a very kind & helpful person -so here is how my true personality works out :I am 100% Amamiya-Mass Sayla/Cure Sparkle , 100% Amamiya Elena/Cure Soleil, 100% Eagle Kinomura Marin/Cure Strawberry, 100% Kinomura Madoka/Cure Pegasus-Selene, 100%  Orphiuchus Midorikawa Shaina/CureApple ,100% Mishou Mai/Cure Egret/now Cure Windy, 100% Yukishiro Honoka/Cure White,100% Takanaka Yui/Cure Sprinkle (she too has a little sister who's also Cure Sprinkle) , 100% Kinomura Seika/Cure Sugar, 100% Minagami Ariel/Cure Seashell, 80% Misumi Nagisa/Cure Black, 100% Kido Saori (Goddess Athena)/Cure Lullaby , 99% Reika Aoki/Cure Beauty, 99% Cygnus Reika Hyoga & 100% Reika-Haguromo Lala/Cure Milky -as well as 100% Yumekano Mai/Cure Chorus, Yumekano Jasmine/Cure Lyric, Hoshina Hikaru/Cure Star, Hoshina-Mackenzie Christina/Cure Winter/Cure Snowflake, & finally Yuiri Fa/Cure Bravery.
My  Favorite Things 
My favorite things are pretty much anime that I like -I even own some of their merch! 
Here are the anime that I truly love the most and are worth recommending :
Saint Seiya:Knights of the Zodiac 1986 anime 
Pretty Cure (I have the dolls)
Disney's the Little Mermaid
Megazone Two Three Part 1 
Bishoujo Senshi Sailor Moon 🌙
Ninja Senshi Tobikage
Gundam Franchise (pretty much Mobile Suit Gundam, Mobile Suit Zeta Gundam, Mobile Suit Gundam ZZ/Disney's Saint Seiya Saintia Sho
Disney's Aladdin
Disney's Kaleido Star /Disney's Kaleido Star:New  Wings 
Rainbow 🌈 Brite 
The original Kino no Tabi 
Kokaku  Kidotai:Stand Alone Complex/2nd Gig 
Disney's Star 🌟Twinkle Pretty Cure 2:Amazing Adventures Back Home in Tokyo,Japan and Amazing Adventures all Over Planet Earth 🌎!
Jushin Liger 1989 
Here are some of !y favorite movies :
The Clint Eastwood Spaghetti Westerns 
Dirty Harry films 
Galaxy Express 999 
The Blue Lagoon
Easy Rider
Barbarella
The China Syndrome 
Pretty Cure All Stars
Sailor Moon 🌙 Pioneer dubs (or Japanese language versions )
The Jungle Book from 1966 & the Jungle Book 2 
10 to Midnight
Death Wish Movies 1-4 
The Little Mermaid 1989
Saint Seiya Movies (3 at least-Legend of the Crimson Youth )
Aladdin_1992 
Rainbow 🌈 Brite & the Star Stealer
My favorite pages
Ishikawa Lakshu/Cure Orbit
Bidan Yuni/Cure Cosmo
Cosmic Bidan Kamille
Hoshina Hikaru/Cure Star
Hoshina-Mackenzie Christina/Cure Winter/Cure Snowflake
Reika-Haguromo Lala/Cure Milky
Cygnus Reika Hyoga
Reika Aoki/Cure Beauty
Pegasus Kinomura Seiya
Kinomura Madoka/Cure Pegasus-Selene
Eagle Kinomura Marin/Cure Strawberry
Yamano Van-the  professional exorcist
Kawamura Ami/Cure Periwinkle
Community content is available under
CC-BY-SA
unless otherwise noted.