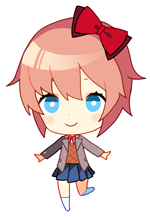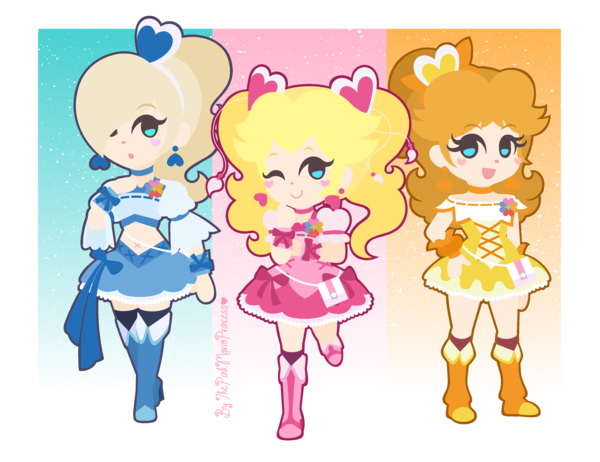 "If it's beauty you want, then there's no need to prove it - Daisy is the fairest of all!"

Hi, I'm Daisy! I used to be a part of this Wiki a few years ago, but ended up taking a hiatus from making Pretty Cure fan-seasons. However, I've gotten interested in Pretty Cure again, and since I've decided to try watching some of the seasons, I wanted to create new seasons, too! (Which may or may not happen.)

My main interest character-wise has always been Princess Daisy. As a child, I used to be one of the "#1 Daisy Fans", making those Windows Movie Maker slideshows, writing a bunch of reasons why I'm a #1 Daisy Fan, and just being... strange, to put it that way. I honestly want to forget any of that happened, but at least I can be happy that it got me especially into Nintendo games, which I still play and love today. Mario is definitely my favorite franchise, and I specifically love the RPG games. I also really love the Animal Crossing series, although I've been neglecting my town and Pocket Camp account...

During that #1 Daisy Fan phase, I began to enjoy anime, like a lot of those other people did. Then, I learned about AMVs, and I started using what was then Vegas Pro (yes, for free). My two favorite anime were probably Madoka Magica and Love Live!, which I still use a lot in my edits now. I now have started to expand my interests in gaming and anime, so perhaps some of my favorites and interests will change a lot again?

Right now, I'm an editor that does MEP parts and chorus videos which can be found here, along with my old slideshow videos. (Oh dear.) The rest of my rambles about myself will probably go on my pen name page, Koizumi Daisy. I plan to update that with my potential new series coming up. If you actually read all of this, thank you! I hope that you're enjoying the wiki.
All old works will be categorized under Catgeory:User:DaisyandMangaForever.

Note: I usually go by the alias hiinagiku now, but some other names are Bjacobs8600 and KaitlanKoizumi.

My YouTube account is where I'll upload some of the MVs I make, though they're usually just MEP parts. I don't upload a whole lot, but I've been thinking of trying to make a Pretty Cure MV!

I haven't really done anything with it yet, but I'll probably just retweet fandom things and animations/AMVs I work on.

Similar to Twitter, I haven't done anything just yet, but it will likely be used for my general interests.

Skype • xyellowflower
I don't know if anyone actually uses Skype, but make sure that I know you're adding me! (Tell me you came from here if that helps.)

Discord • hiinagiku#0507
Please tell me who you are before you add me.


You can also ask for my:
3DS friend code
Nintendo Switch friend code
Animal Crossing: Pocket Camp friend code
Love Live! School idol festival ID
Community content is available under
CC-BY-SA
unless otherwise noted.