No Way!
What are you even doing here? Twinkle!★Twinkle! Pretty Cure! rightfully belongs to me, aka Shimamori Amira!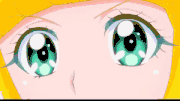 Please, do not edit Twinkle!★Twinkle! Pretty Cure! or ANY of my other pages without my permission (unless you're a wiki admin), even if it's tiny or huge! Also, don't attempt to create series that are ripoffs of my series. Besides, this page contains a really huge amount of spoilers! So read at your own risk!
If you fix an error on the page, please type it in the edit summary box so I can see what you have done. But break my rules, and Cure Sparkle will use

Healing Flash

in your face!

Twinkle!★Twinkle! Pretty Cure! (トゥインクル!★トゥインクル!プリキュア!, To~uinkuru!★To~uinkuru! Purikyua!?) is a Japanese magical girl anime series produced by Toei Animation and the unofficial installment to the Pretty Cure series. It is formerly directed and written by Ahim de Famille, but taken over by Shimamori Amira (through permission). The season's theme are space, stars, idols, constellations, colors, mythology, rainbows, sun and moon, light and darkness, music, fashion, technology, rainbows, and jewels, which shares some references from the Super Sentai series, Uchu Sentai Kyuranger.
Plot
Prior to the peaceful world of Galactika and the Galantis, the world has been taken over by invaders. With the universe under their thrall, the tears of the people awaken the twelve ultimate saviors, chosen by the Twinkies, and they are here for the galaxy's salvation. According to Cure Shine, twelve different people with strong personas. The most powerful warriors arrive here and now.
Characters
Pretty Cures
The KariKari (カリカリ, KariKari?) consists of eight members, which are in a Middle School students. The leader is Momoiro Aisaki. Their themes are cute and colorful and the genre are pop.
The Twinkling (きらきら光る, Kirakira hikaru?) are consists of five members, who are in Elementary students. The leader is Nikki Fao. Their themes are pop and pastels and their genre is rock.
The Solaria Shimmer (ソラリアシマー, Soraria Shimā?) consists of seven members, which are in High School students. The leader is Gina Mien and later, Shanaugh Avelin. Their themes are gothic and cool and their genre is clasical.
The ShinGleam (シングリーム, ShinGurīmu?) consists of duo who are from Galactika. Both are the most powerful members and they have own PreItems. Their themes are metallic and sexy and their genre is jazz and disco.
Shannon Weaver (

シャノン・ウィーバー

Shanon' U~ībā

?

)
One of the protagonists, British, 13 years of age as Shannon, but turns 17 years of age. Shannon, was the princess of the Galactika as Princess Alina (

プリンセス・アリンナ

Purinsesu Arin'na

?

). She was the true soul of Princess Alina after died in a battle. She is like a daydreaming but loves to saw stars in the sky. Her pretty Cure ego is Cure Shine (

キュアシャイン

Kyua Shain

?

), the pretty Cure of Light. Her theme colors are white, black, gold, pink, red, and yellow.
Danielle Veneracion (

ダニエル・ヴァネッサシオン

Danieru Vu~anessashion

?

)
One of the protagonists, Filipino, 14 year of age. Danielle is timid, blunt, and pale girl in which she has extremely weak at all skills when she was in Dave's control, who was brainwashed by the Black Hole to spying the Cures' identities. Later, she was in freed on Dave's control and she is now carefree, more confident, and warms up to join the team. Her pretty Cure ego is Cure Gleam (

キュアグリーム

Kyua Gurīmu

?

), the pretty Cure of Planets. Her theme colors are black, white, silver, green, blue, and purple.
Tejingawa Sherwin (

天神川シャーウィン

Tenjingawa Shāu~in

?

)
A friend who gives Aisaki's happiness. He can understands the pretty Cures.
Items
Locations
Notes
Obiously, the ages of each Cures are too different (9 are the youngest members while the 19 are the oldest members).
The first twelve Twinkle! Twinkle! Cures would be based of Kyuranger's theme Colors.

The difference, the white Cure would be based on Washi Pink while the pink Cure is from Houou Soldier. The some references are moved as well as color of Washi (pink to white) and Houou (red to pink).

Like the events of New Stage 3, the other eleven Cures are not yet to be revealed. However, they would be appeared in the Pretty Cure Nova Stars! movie to reveal the Cures from the next episodes.

Also, Cure Gleam was briefly appearance in the final attack along with the other pretty Cures.

This would be the revival comeback of Pretty Cure RPM and its past generation season, Go On! Pretty Cure! (Engine).
Most final Cures are in a too earliest for the first appearances, in which was in the at last for tenth episodes. Which are Cure Shine (Episode 17) and Cure Gleam (Episode 19).
The hairstyles in their Pretty Cure forms are similar to AKB0048's two idols from the represented idol groups.
Trivia
The season consists of twenty-two Cures. However, twelve Cures are first appear to join.

However, during Pretty Cure Nova Stars!, eight Cures are appear but they are not shown their identities.

Twinkle!★Twinkle! Pretty Cure! is the first season in which the accessories as their transformation items.
Media
Episodes
Music
Movies
Merchandise
Gallery
References
Community content is available under
CC-BY-SA
unless otherwise noted.