❀ 𝒢𝑜𝓀𝒾𝑔𝑒𝓃'𝓎ō! ❀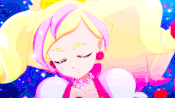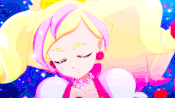 ❀ StCLPC05 ❀
is rightfully owned by Harajuku Arissa
You are not allowed to edit this page.
Please refrain from stealing any content in this page.
If you wish to fix minor mistakes in this page, please be kind enough to put whatever you fixed in the summary box.
❀ Thank you and have a good day. ❀

What?! A Third Pretty Cure? Who Could It Be? (何?! 3回目のプリキュア?それは誰だろうか?, Nani? ! 3-Kai-me no purikyua? Sore wa daredarou ka??) is the 5th episode of Starry Cosmic Love Pretty Cure. In this episode, the Cures find out that a third Pretty Cure named Cure Infinite existed in the past.
Summary
Keira gives her first speech as Student Council President. Later that day in the Silver Campus, Aria asks why Uxieo was surprised that there were only two Pretty Cures. "The One" explains that in the past, there was a third Cure who accompanied Cure Forever and Cure Eternal and her name was Cure Infinite.
Kirary continues by saying that originally there were three Starry Lockets, but when King Eridanus and Queen Rishi's daughter became very sick with an unknown terminal illness, they gave a Starry Locket to their daughter, Princess Kagura, in hopes that the Starry Locket would save her. It did, allowing the princess to live happily, that was until the Wicked Galactica reappeared and attacked Airen, a planet in the Cosmic Galaxy that King Eridanus ruled. The whereabouts of King Eridanus, Princess Kagura, and her brothers remain unknown, but Kirary, Kirarin, and "The One" believe that they must have fled to the Milky Way Galaxy. Kirarin continues by saying that without the third Starry Locket, Cure Infinite cannot reawaken.
Meanwhile, Uxieo is unable to accept her defeat after knowing that there were only two Pretty Cures. She once again attacks, summoning a Chaostica to challenge the Cures. The Chaostica proves to be a challenge but was soon defeated using the attack Forever - Eternal Shooting Star!. Uxieo flees while smiling, happy that she finally understands how the two battle. The Chaostica leaves a Temporal Shard behind.
Major Events
Akiyama Keira and Fujiwara Aria learn about the existence of a third Pretty Cure, Cure Infinite. 
The history of the Royal Family of Airen is revealed. 
Synopsis
Characters
Pretty Cure
Mascots
Guides
Secondary Characters
Community content is available under
CC-BY-SA
unless otherwise noted.