Prism Pretty Cure! Merchandise
is part of Prism Pretty Cure! and belongs to Infinity Mirai
Please do not change major information without my permission!
If you want to fix grammar mistakes or add a category I might've missed,
please write in the summary box what you fixed. Thank You!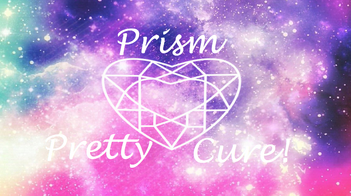 Here is a list of merchandise that has been produced for the Prism Pretty Cure! Series.
Arcade Game Card Collection
Prism Pretty Cure! McDonald's Card Collection
Cure Dolls
Main article: Cure Dolls
Cosplay Costumes
Main article: Cosplay Costumes
Keychains
Cure Infinity keychain
Cure Cerise keychain
Cure Sparkle keychain
Cure Mystic keychain
Sullen keychain
Prism! rubber straps (10 designs)
Toys
Legendary Crystal
Prism Chest
Jewel Heart Icons
Prism! figures
Prism! chibi figures
Frore plush
Castor plush
Pollux plush
Mangas
Prism Pretty Cure! Manga (Vol. 1)
DVDs
Prism Pretty Cure! DVD Vol. 1
Blu-ray Volumes
Others
Shirts
Cure Infinity's shirt
Cure Cerise's shirt
Cure Sparkle's shirt
Cure Mystic's shirt
Prism Pretty Cure! shirt
Tapestries
Community content is available under
CC-BY-SA
unless otherwise noted.