This CCPCG page is a stub. Please wait for Nicole C.G. to complete

Paige Fujiko.
☆If a section says "~Add~", that means you can finish it yourself!☆
—Paige on episode 32
Paige Fujiko
藤子ペイジ
Fujiko Peiji
Description
English Dub
Paige Fujiko
Season
Candy Crystal Precure Go!
Age
12-13
Gender
Girl ♀
Birthday Date
July 6th
Eye Color
Pink
Hair Color
Pink
Origin
Rainbow hills🇯🇵

Dallas, Texas 🇺🇸🇨🇱

Family
Jess Fujiko (Older Sister)

Emily Fujiko (Mother)

Fujiko Akihiko (Father)

First Appearance
CCPCG01
Voice Actor
Azusa Todokoro (Jpn)

Auli'i Cravalho (Dub)

Pretty Cure
Alter Ego
Cure Lolly
Weapon
Lollipop Harp
Form Change (s)
Carnival Lolly (PCSS:CC)

Prism Lolly (Upgrade)

Sparkle Lolly (Ultra)

Mew~a Lolly (Ultra 2)

Theme Color
Pink
Paige Fujiko (藤子ページ) is the lead Cure of the Candy Crystal Precure Go! Team. She is the first of the Cures to get a Lollipop Harp. And Her catch phrase is "Flip the Page. What's next? (ページを反転させる。次は何ですか?)"
Story
Paige's mother is American and Paige's father is Japanese. So, she spent many years in Japan. But her father's job made them move back to America. A few years later, they moved back to Japan and back to her old school.
Personality
She is a optimistic tween that believes she is not ready to grow up to be a teen. She enjoys drawing, acting, and romantic movies. She also loves horses and ponies. Her favourite candy is lollipops
Appearance
Paige
She has long dark pink hair tied in a braid and she has curly bangs. She is wearing a pink top with blue buttons and a ribbon. She has very puffy blue shorts and pink shoes. Finally, she has a white long sleeve undershirt and white socks.
Cure Lolly
She has long pink hair tied into a ponytail and she has curly bangs. She is wearing a puffy dress with puffy sleeves and a bow. She also has gumballs on her skirt and a belt with gems and gloves. lastly, she has white socks and white and pink high heel shoes.
Prism Lolly
~Add~
Cure Lolly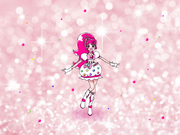 "Yummy lollipops! Cure Lolly! Ready to serve!"
Oishi roripoppu! Kyua Rori! Dekiagari!
美味しいロリポップ!キュアロリ!出来上がり!
Paige became a Pretty Cure on Jan 27, 2017 while on her way home from school. And Sweets was the one who told her how to transform.
Relationships
Emily Fujiko (Mother)
Fujiko Akihiko (Father)
Jess Fujiko (Older Sister)
Tora Narumi (childhood friend)
Etymology
Paige means "young servent".
Lolly is a shortened version of the word Lollipop which is hardened sugar syrup on a stick that is usually given to children to enjoy. Lolly is also the casual British-English word for lollipop.
Attacks
"Pretty Cure! Paige turner!" (Basic attack)
プリキュア!ペイジターナ!
"Pretty Cure! Lolly harp strum!" (Attack)
"プリキュア!ロリハッピーストラーム!
Transformation
Facts
Paige is the first Cure to be half American.
Paige is allergic to Cats.
Paige is the one of the first Cures to have a Mew as her sister.
Gallery
Paige Fujiko Gallery