❀ 𝒢𝑜𝓀𝒾𝑔𝑒𝓃'𝓎ō! ❀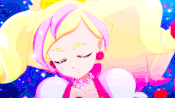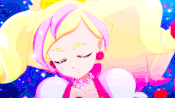 ❀ Mespiritia ❀
is rightfully owned by Harajuku Arissa
You are not allowed to edit this page.
Please refrain from stealing any content in this page.
If you wish to fix minor mistakes in this page, please be kind enough to put whatever you fixed in the summary box.
❀ Thank you and have a good day. ❀
Mespiritia (メスピリティア, Mespiritia?) is an antagonist in Starry Cosmic Love Pretty Cure. Mespiritia is one of the three evil fairies that make up the Galatiorans, fairies who serve the Wicked Galactica. The leader of the Galatiorans, Mespiritia represents emotions.
Bio
Appearance
Personality
Mespiritia is a fairy who tends to manipulate people's emotions in order to easily gain negative energy from them.
Relationships
Etymology
History
First Appearance
Trivia
WIP
Gallery
WIP
Community content is available under
CC-BY-SA
unless otherwise noted.