❀ 𝒢𝑜𝓀𝒾𝑔𝑒𝓃'𝓎ō! ❀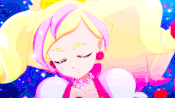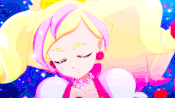 ❀ MIRAGE ❀
is rightfully owned by Harajuku Arissa
You are not allowed to edit this page.
Please refrain from stealing any content in this page.
If you wish to fix minor mistakes in this page, please be kind enough to put whatever you fixed in the summary box.
❀ Thank you and have a good day. ❀
Mirage
Background
Genre(s)
Pop
Years Active
2017-present
Label(s)
Yoshigami Academy
Members
Current
*
Fandom
Anime Information

MIRAGE (ミラージュ, Mirāju?) is a female school idol group in Starry Cosmic Love Pretty Cure that was formed in Yoshigami Academy. Carrying a powerful girl crush group concept, MIRAGE rose to fame by breaking the social norms expected in girls. In episode 1, it was revealed that it is currently the most popular school idol group in Japan.
History
Entry into the School Idol Group Scene
MIRAGE's debut instantly shot the group into great heights in the world of School Idols. Barely passing the "five months active as a group" rule imposed by the Idol Royale, Mirage broke the two-year consecutive winning streak of the popular group Red Rhythm.
Members
MIRAGE has a total of 4 members.
Discography
No copyright infringement intended. I do not own the songs in this list. Most of the songs are linked to go to Youtube.
Trivia
Community content is available under
CC-BY-SA
unless otherwise noted.