Don't even think about it!
Lydia Rocky belongs to Lydia Rocky
You are not allowed to steal any of the pictures You are not allowed to steal any of the pictures without the creator's permission! Try not to steal any of the information, it can cause some rip-offs and you will get blocked!

If you like to fix grammar or missing, find the edit summary to explain what you done.
Watch out for spoilers,

<insert name here>

!
<center>

Lydia Rocky may contain spoilers.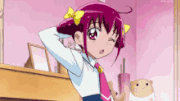 This page has some spoilers coming up! It's okay if you want to continue reading, but just know that you have been warned. Thanks! :-)
Lydia Rocky
東屋まどか
Azumaya Madoka
Information
Alias
User:Lydia-Rocky
Title
Creator of Petite✴Pretty Cure
Birthday Date
May 12
Gender
Female
Eye Color
Blue
Hair Color
Black
Home Place
Australia

Azumaya Madoka (東屋まどか, Azumaya Madoka?, Madoka Azumaya in western order) is user name for Lydia Rocky, and She is the creator of Petite✴Pretty Cure.
Bio
Birthday: May 12th
Zodiac Sign: Taurus
Favorite Food: Cakes
Favorite Color: Purple
Favorite Hobby: Listening to Music
Favorite Movies: Action & Adventure
Loves: Pretty Cure!
Favorite Music: Pop & Future Bass
Top 5...
OTP's
Nozomi x Coco
Komachi x Natts
Miraculous Ladybug Love Square
Nathaniel x Iris
Timmy x Tecna
Series
Pretty Cure
Miraculous Ladybug
LoliRock
Winx Club
Regal Academy
Characters
Kaguya Madoka / Cure Selene from Star☆Twinkle Pretty Cure.
Alya Césaire / Rena Rouge from Miraculous Ladybug
Talia from LoliRock
Musa from Winx Club
Astoria Rapunzel from Regal Academy
About Me
Hi! I'm Lydia Rocky. A passionate 16 year old fanatic who loves Magical Girl and Anime. I live in Sydney, Australia and I'm currently studying to become a Doctor. I love being part of the FANDOM and making friends!
Projects
Community content is available under
CC-BY-SA
unless otherwise noted.