Oh no, ~pafu! It looks like the article you are visiting is a stub ~pafu.
Oh no, ~pafu! The page has not been finished yet ~pafu! It looks like the creator of Lapis Re:Lights★Pretty Cure has yet to complete the work of this page ~pafu. Please wait for updates or ask the creator about further details to find out more about Lapis Re:Lights★Pretty Cure ~pafu.
Don't Even Think About It!
What are you doing here!? Lapis Re:Lights★Pretty Cure rightfully belongs to me, aka Yamashiro Harumi!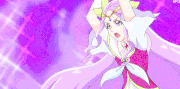 Please, do not edit Lapis Re:Lights★Pretty Cure or ANY of my other pages without my permission (unless you're a wiki admin), even if it's tiny or huge! Also, don't attempt to create series that are ripoffs of my series. Besides, this page contains a really huge amount of spoilers! So read at your own risk!
If you fix an error on the page, please type it in the edit summary box so I can see what you have done. But break my rules, and Cure Earth will use

Healing Hurricane

in your face!
Lapis Re:Lights★Pretty Cure
Series Information
Kanji
ラピスリライツ★プリキュア
Romaji
Rapisu Riraitsu★Purikyua
Director
Yamashiro Harumi
Studio
Wonderdream Animation Studios
Network
TrueƆolor Anime
Original Run
2021-
Episodes
Unknown
Opening Theme Song
Watashitachi no STARTRAIL
Ending Theme Song
Depends on Episode's Focus.
Your Lights (If Focused on LiGHTs)
RISE (If Focused on supernova)
Kinki no Gūwa (If Focused on IV KLORE)
Watashi no Hatsukoi wo Kono Hana ni Sasagu (If Focused on Konohana wa Otome)
Chat Noir (If Focused on Sugar Pockets)
Are Many Chance!!! (If Focused on Sadistic★Candy)
Theme/Motif(s)
Magic, Idols, Witches
Series Guide
Previous
Next
← TBA
TBA →
Lapis Re:Lights★Pretty Cure (ラピスリライツ★プリキュア, Lapis Re:Lights★Pretty Cure?) is yet another comeback fan series created by Shimamori Amira but this time, also being the first one under her new pen name, Yamashiro Harumi.
It's main theme is idols with a magical twist.
Plot
Have you ever wondered what it would be like if you were an idol in an academy for witches-in-training? Well, think again. You'll also have fight evil-doers who plan to steal the witches' magic.
Characters
DISCLAIMER: All characters resemble the original Lapis Re:Lights Characters. Credits to the Lapis Re:Lights Wikia.
Pretty Cure
Emilia (

エミリア

?

) - Emilia is the daughter of a succubus, a subspecies of human. Upon entering the Public Morals Committee, she aimed to regulate the romance between schoolgirls. Because she led a mostly sheltered life, she is unfamiliar of the public and is fairly naïve. She enjoys shoujo manga. Her alter ego is Cure Demon (

キュアデーモン

?

) and her signature colour is lavender.
Community content is available under
CC-BY-SA
unless otherwise noted.