❀ 𝒢𝑜𝓀𝒾𝑔𝑒𝓃'𝓎ō! ❀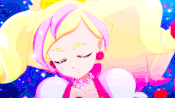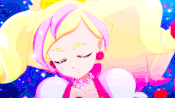 ❀ Kirary ❀
is rightfully owned by Harajuku Arissa
You are not allowed to edit this page.
Please refrain from stealing any content in this page.
If you wish to fix minor mistakes in this page, please be kind enough to put whatever you fixed in the summary box.
❀ Thank you and have a good day. ❀

Oh no, ~pafu! It looks like the article you are visiting is a stub ~pafu.
Oh no, ~pafu! The page has not been finished yet ~pafu! It looks like the creator of Kirary has yet to complete the work of this page ~pafu. Please wait for updates or ask the creator about further details to find out more about Kirary ~pafu.
Kirary (キラリー, Kirary?) is one of the two main mascots of Starry Cosmic Love Pretty Cure. She is the fairy born from the soul of the Past Cure Forever. Most of her sentences end with "~ri."
Bio
Appearance
Kirary looks similar to a cub and is referred to as such by people other than the Pretty Cures.
Personality
Relationships
Akiyama Keira - Kirary is Keira's partner fairy. In episode 8, Keira really tried her best to cheer Kirary up and promised that she will be able to return to the Cosmic Galaxy when they defeat the Wicked Galactica.
Fujiwara Aria - Being a fairy for the Pretty Cures, Kirary and Aria appears to have a close bond even though they are not partners.
Etymology
History
Abilities
Trivia
Community content is available under
CC-BY-SA
unless otherwise noted.