Jun Sakamoto
坂本潤
Sakamoto Jun
Personal Information
Age
16
Birthday Date
February 14
Gender
Male
Hair Color
Blonde
Eye Color
Blue
Relatives
Mia Sakamoto (Older Twin Sister)

Ayami Sakamoto (Younger Sister)

Anime Information
Jun Sakamoto (坂本潤 Sakamoto Jun) is a supporting character in Koi wa Pretty Cure! He is the king of Yakusoku Host Club.
Appearance
Jun has blonde hair and blue eyes. During school, he wears his usual school outfit. At Yakusoku Host Club, he wears any type pf outfit depending on the season. In winter, he wears a thick, blue, turtleneck sweater with black pants and gray shoes. In spring, he wears a pink T-Shirt that says "I <3 You" and dark blue pants. In summer, he doesn't wear a shirt, but wears a blue swimsuit. In fall, he wears an orange sweatshirt with black pants.
Personality
Jun is thought as a kind, gentle man. He is quite a gentleman, and almost every girl loves him, especially younger girls in elementary. He matches all the basic needs to be the king of the host club. Some guys are quite afraid of him because they might think he's tough, and'll beat up anyone in site. but as said by Yuu, he's actually softer than people think. He has a habit of flirting with girls, especially at Yakusoku Host Club.
Relations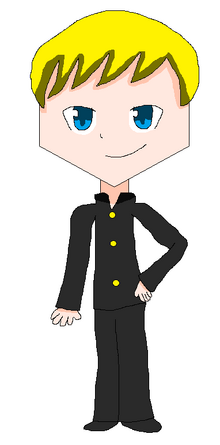 Mia Sakamoto is Jun's twin sister.
Ayami Sakamoto is Jun's younger sister.
Yuu Fukuyama is Jun's friend.
Miki Nakamura is in love with Jun.
Etymology
His last name is Sakamoto. Saka (坂) means slope. Moto (本) means tome. So his last name means "slope tomb"
There is no official translation for Jun (潤) that is known.
Trivia
He shares his last name with anime voice actress Maaya Sakamoto.
He is the second boy is Koi wa Pretty Cure!
Community content is available under
CC-BY-SA
unless otherwise noted.