❀ 𝒢𝑜𝓀𝒾𝑔𝑒𝓃'𝓎ō! ❀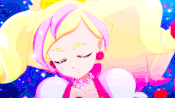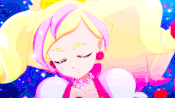 ❀ Himefumi Kara ❀
is rightfully owned by Harajuku Arissa
You are not allowed to edit this page.
Please refrain from stealing any content in this page.
If you wish to fix minor mistakes in this page, please be kind enough to put whatever you fixed in the summary box.
❀ Thank you and have a good day. ❀
Himefumi Kara (ヒメファミ カーラ, Himefumi Kara?) is a mysterious transfer student to Amanatia Academy.
Bio
Appearance
Personality
Kara is a student who likes to keep to herself. She can be rarely seen interacting with other students while at school. She is also sharp-witted as her reverse psychology methods once worked on Aria.
Relationships
Fujiwara Aria - Aria is Kara's roommate. In episode 8, Kara uses reverse psychology on her to stop her from worrying about disappointing her mother and brother which subsequently works.
Etymology
History
Trivia
Gallery
WIP
Community content is available under
CC-BY-SA
unless otherwise noted.