❀ 𝒢𝑜𝓀𝒾𝑔𝑒𝓃'𝓎ō! ❀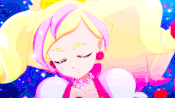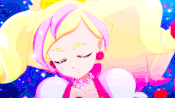 ❀ Harajuku Arissa ❀
is rightfully owned by Harajuku Arissa
You are not allowed to edit this page.
Please refrain from stealing any content in this page.
If you wish to fix minor mistakes in this page, please be kind enough to put whatever you fixed in the summary box.
❀ Thank you and have a good day. ❀
Harajuku Arissa
原宿アリッサ
Harajuku Arissa
Personal Info
Name
Harajuku "Yuki" Arissa
Gender
Female
Birthday
September 17
Zodiac
Virgo
Eye Color
Blue
Hair Color
Blonde
Director Info
Debut Season
Starry Cosmic Love Precure!
Studio
Toei Animation
Network
TV Asahi
Harajuku Arissa (原宿アリッサ Harajuku Arissa) is the pen name of PrincessAire/AireHime. She is a Pretty Cure writer and director, best known for the PreCure! Cosmic Love Series. She is also known to write songs as her hobby, but she hasn't released any of them yet.
Personality
According to her co-workers, Arissa is a shy person, but once you get to know her more, she opens up to you, and she can become a friend you can rely on. She is also a fair woman, if someone doesn't like an idea, she will make a vote on whether or not something should be implemented in a story. Arissa is also very caring and is also gentle and loyal. She loves to brighten everyone's days, that's why she made her own Pretty Cure series. "I wanted to become a Pretty Cure director and writer," Arissa says. "because I always smiled when I see them. Now, I want people to smile because they saw my series because it is truly an amazing feeling".
Appearance
Arissa has long blonde hair with blue eyes. She often wears dresses at work, ranging from long sleeved to sleeveless, though her most favorite outfit is shown in the picture above. She wears a red ribbon, high heels, and a flower bracelet. She also has pale skin. She usually brings her penguin stuffed toy because it was a gift given to her by her father.
Etymology
Harajuku (原宿) is the name of a railway station in Shibuya, Tokyo, Japan. Arissa loved to ride the station as this was the station near their house.
Arissa (リッサ) the name means "there is sand." It was the name given to her by her mother because her mother loved to go to the beach while Arissa was still inside her.
Yuki (勇気) is the nickname given to her by her co-workers, meaning courage. This was because she did her best present her series to Toei Animation, even though she was shy.
Story
WIP
Songs
WIP
Pretty Cure Series
Type
Season
Run
Theme
PreCure! Cosmic Love Series
Starry Cosmic Love Precure!
 ?
Space, time, stars and galaxies
Bright! Infinite Starry Cosmic Love PreCure!
 ?
Space, time, stars and galaxies
Astral Zodiac Pretty Cure!
 ?
Zodiac, constellations, fate, friendship, and space
Supernova Premier Knights
 ?
Galaxies and planets
Main
Royal Lumen Pretty Cure!
 ?
Queens, royalty, nobility, medieval and magic
Guides
Trivia
She is a huge fan of the Love Live! series.
Community content is available under
CC-BY-SA
unless otherwise noted.