❀ 𝒢𝑜𝓀𝒾𝑔𝑒𝓃'𝓎ō! ❀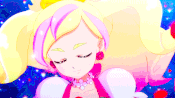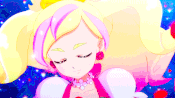 ❀ Fujiwara Aria ❀
is rightfully owned by Harajuku Arissa
You are not allowed to edit this page.
Please refrain from stealing any content in this page.
If you wish to fix minor mistakes in this page, please be kind enough to put whatever you fixed in the summary box.
❀ Thank you and have a good day. ❀
Fujiwara Aria
フジオアラ アリア
Fujiwara Aria
Personal Information
Age
14
Birthday Date
14th of November
Gender
Female
Hair Color
Navy Blue
Eye Color
Green
Home Place
Kiranihiska City
Alter Ego
Cure Eternal
Hair Color
Light Blue
Power(s)
Time
Anime Information
Season
Starry Cosmic Love Pretty Cure
First Appearance
StCLPC01
Voice Actor
Sawashiro Miyuki
Fujiwara Aria (フジオアラ アリア, Fujiwara Aria?) is one of the main two Cures the series Starry Cosmic Love Pretty Cure.
Aria's alter ego is Cure Eternal (キュアエターナル, Kyua Etānaru?).
Bio
Appearance
In her casual outfit, Aria wears a long blue jacket above a white shirt with a necktie. She wears light blue shorts and wears knee-high socks with two blue lines on the top. She wears blue sneakers and she is often seen with a large, blue headphone connected to her phone at the pocket of her short. She has blue hair with violet gradients at her bangs and at the ends. She also has blue-green eyes.
Personality
A shy young girl, Aria tends to be distant from other people and usually keeps to herself and a number of people that she is comfortable with. This is because she is afraid of rejection. However, Aria is a truly kind girl who only wishes the best for everyone.
Unlike most members of her family, she is not haughty and does not like how family members are always busy trying to make money. Aria loves listening to music as she believes it is the only way that can bring her to another world where she doesn't worry about things like her family.
Relationships
Etymology
History
Meeting Keira and Becoming Cure Eternal
Cure Eternal
"The Warrior of Time that Protects Fate from danger! Cure Eternal!"
運命を危険から守る時の戦士!キュアエターナル !
Unmei o kiken kara mamoru toki no senshi! Kyua Etānaru!
Cure Eternal (キュアエターナル, Kyua Etānaru?) is the Pretty Cure alter ego of Aria. In this form, she is able to control and manipulate time to a certain extent. She transforms into Cure Eternal by using the Starry Locket she has.
Transformations
Starry Heavens, Kira Kira Pretty Cure! (星空、キラキラプリキュア!, Starry Heavens, Kira Kira Pretty Cure!?)
It is the phrase that Aria needs to use along with Keira so that they can both transform into their Cure forms, Cure Eternal and Cure Forever, respectively.
Attacks
Weapons
Items
Trivia
Gallery
WIP