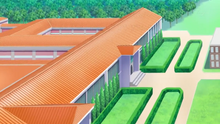 Espoir Academy (エスポワールアカデミーEsupowāruakademī) is the school that the characters in FantasyClock☆Precure attend. Espoir Academy was first introduced in episode 1. The school is located in Starling Town.
Description
Notable Students
Moegi Naoto
Wakamiya Asahi
Hanasaki Kanata
Uniform
Female Uniforms
A white button up worn beneath a light green jacket with dark green lapel, lining, and buttons. The sleeve cuff is loose with white frills to accent those on the collar. A pink short tie is included. Comes with a pink pleat skirt lined with dark green and worn over a frilly petticoat. Comes with a pair of tights and Mary-Jane shoes.
Male Uniforms
Etymology
Espoir means "hope" in French.
Trivia
Gallery
Disclaimer
Cure Nerd does NOT own any pictures on this page. Due to copyright issues and regulations, all characters will be renamed.
Community content is available under
CC-BY-SA
unless otherwise noted.