Opening 1 - Alright! heartcatch precure!
<Tsubomi Car>
Erika : Yahoo!! Finally we can go to beach!!
itsuki : yeah!, today is very hot!
Tsubomi : what you eat, yuri?
yuri : i eat sweet potato, do you want too?
tsubomi : yes, thank you very much!
Then Tsubomi eat the sweet potato
Yuri : how? Tsubomi : This is very delicious! Yuri : Thank You, i made it by my self tsubomi : sugoiii
~One hours later they arrive at Kyoto beach, the name is Kotobikihama Beach~
Erika : Everyone! Let's swimming!
Erika use her swim suit then run to water.
Erika : baaahh!!It's fun! Tsubomi, Itsuki and Yuri lets go to try it!
Tsubomi & Itsuki : Okay!
They run into water same that Erika do
Tsubomi : It's fun!
Erika : justified?
Itsuki : Yuri, you don't want to try it?
yuri : No, thank you! I'm better in this place!
Itsuki : Okay!
Then They are play a water, about 30 minutes later they are done. The cures are eat a barbeque and a hot milk.
tsubomi&Erika: Oishiii..!
Gallery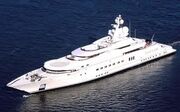 Community content is available under
CC-BY-SA
unless otherwise noted.